BY JULIE LEVIN – SPECIAL TO THE MIAMI HERALD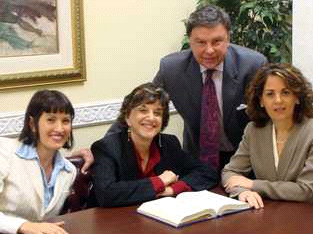 [dcs_p]After 26 years of marriage, Dale Leblang's marriage was coming to an end. The Boca Raton man and his wife wanted to find a way to end their union as quickly and civilly as possible. Acting on a recommendation from a friend, they turned to a process known as collaborative divorce and they had their divorce agreement just six weeks later.
"Even though divorce is a very stressful situation, by doing it this way, it could be done much quicker, much cheaper and with much less stress," Leblang said.
Though the collaborative process has been around for some time in Europe, Australia, Canada and parts of the United States, it is just now gaining a following in Florida, thanks in part to the Collaborative Family Lawyers of South Florida.
Created 10 years ago and incorporated in 2001, Collaborative Family Lawyers is a network of 40 Broward County lawyers plus 40 financial and mental health professionals trained in collaboration as an alternative to traditional litigation. All negotiations are done outside of the courtroom.
"It is very private and confidential," said attorney Enid Ponn, one of the founding members, who is with the law firm Miller & Ponn in Weston.
Without traditional and often messy litigation, the collaborative process is a fraction of the usual cost.
Each side must come to the table, ready and willing to work out an agreement. They must each be represented by their own attorney, Ponn said.
Psychologists and CPAs are brought in to help work out financial and child care issues to avoid a trip to court. Depending on the complexity of a divorce, an agreement can sometimes be reached after only one to two meetings. If an agreement can't be reached, the lawyers involved must withdraw.
For more information, visit www.collaborativefamilylawfl.com