Cameron Crowe, Nancy Wilson Divorcing
https://theccdm.com/wp-content/uploads/2014/12/featured-image.jpg
300
282
admin
admin
http://1.gravatar.com/avatar/a589a3afac77d2fd7e2c0838e5e896b6?s=96&d=mm&r=g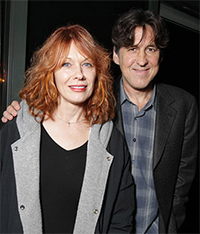 Director Cameron Crowe and his wife, Nancy Wilson, filed divorce papers this week in Los Angeles. Wilson, a member of the rock band Heart since 1974, technically filed the divorce petition (available at TMZ.com) but it appears to be a collaborative divorce in which both parties have worked together to settle all related matters prior to filing in court.
Wilson, a singer and songwriter from the rock band Heart, filed divorce papers Thursday in L.A. County Superior Court, citing irreconcilable differences. She lists June 15, 2008, as the date of their separation.
Crowe and Wilson first met in 1982. That same year, she made a brief appearance in Fast Times at Ridgemont High, a film written by Crowe. (Crowe went on to write and direct movies like Say Anything, Singles, Jerry Maguire, and Almost Famous.) They married on July 23, 1986.
The couple have 10-year-old twin boys, William and Curtis. Crowe and Wilson have apparently agreed to joint physical and legal custody of the children. It also appears that they have agreed that Crowe will pay Wilson spousal support.
California's Family Code, Section 2013 provides:
(a) If a written agreement is entered into by the parties, the parties may utilize a collaborative law process to resolve any matter governed by this code over which the court is granted jurisdiction.
(b) "Collaborative law process" means the process in which the parties and any professionals engaged by the parties to assist them agree in writing to use their best efforts and to make a good faith attempt to resolve disputes related to the family law matters as referenced in subdivision (a) on an agreed basis without resorting to adversary judicial intervention.
Our guess is that Wilson and Crowe, quite admirably and maturely, were able to spend the time since their separation discussing and mediating how best to handle the custody of their children and division of their substantial marital assets.
Almost all of Crowe's film successes came after the couple was married – thus, making the proceeds of those efforts community property. Heart had tremendous success in the late '70s, prior to the marriage. It is unknown though how the proceeds of early Heart hits compare to those that came in the late '80s (during the marriage). Heart has continued to record and tour until today (they actually just released a new album which debuted at #10 on the Billboard album chart). Wilson also wrote and scored for the soundtracks to several of Crowe's films.
All of that is to say that division of the couple's marital assets could not have been a simple process. Kudos to them for engaging in the collaborative process and keeping it away from trial and out of the tabloids.
Library Topics: divorce, collaborative divorce, custody, spousal support, distribution of assets, marital property, community property, California family law